Monika Hinterwaldner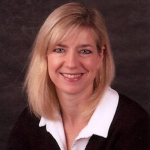 Executive Board Member
Monika holds a BFA in Fashion Illustration from Moore College of Art & Design in Philadelphia, where she graduated at the top of her class. In 2012, she was privileged to jury the first Marian Locks Award, a $4000 scholarship that will be awarded every year to an exceptional Moore graduating senior — a very exciting development, and one right in keeping with her mission as a Founder of the Bucks County Illustrators Society.
Monika successfully designs and markets her own line of illustrated greeting cards and gift items, sold at the Delaware Art Museum, the Brandywine River Museum, the Mercer Museum, and other Philadelphia area stores. She has also forayed into textile design, creating three whimsical collections for children for the quilting market, sold in independent sewing shops in the US and Canada.
Previously, Monika worked as a television broadcast designer, where she has won Promax and BDA Awards for her work at ABC News in Washington, DC, and Kabel 1 and ProSieben in Munich, Germany. She has also designed on-air news graphics and animations for KYW in Philadelphia, PA.
Please look for her new e-book published on children's book website www.utales.com, "Ten Little Bears Go Counting"! She is also a member of the Society of Children's Book Writers and Illustrators.
See more of Monika's work: www.monhin.com.
---
Pat Achilles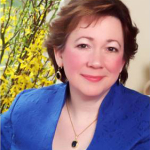 Executive Board Member
Pat is also a graduate of Moore College of Art with a BFA in Illustration, studying there under renowned illustrators Beth and Joe Krush and Robert Byrd. She worked as Art Director of Curriculum for Westminster Press, the publishing house for the Presbyterian Church, and as an illustrator for the Pennsylvania School for the Deaf. After starting a family Pat began freelancing and has since created illustrations for AAA World Magazine, The Harrisburg Patriot-News, The Trenton Times, W. Atlee Burpee Company, Rodale Press, Children's Digest, Humpty Dumpty Magazine and many businesses. She illustrated the children's books Green Andrew Green by Isabelle Holland, Mommy's High Heel Shoes by Kristie Finnan, The Adventures of the Poodle Posse series by Chrysa Smith an The Lion, the Ostrich and the Squirrel for the Maasai Cultural Exchange Project.
Pat gives presentations on Marketing for Illustrators and What Authors Should Know About Book Illustrations and draws her own line of humorous greeting cards and a weekly cartoon for her website subscribers. She was very honored to be given a First Place in Advertising illustration and an Honorable Mention in Institutional illustration at past Phillustration Shows sponsored by the Philadelphia Sketch Club.
See more of Pat's work: achillesportfolio.wordpress.com.
---
Glenn Zimmer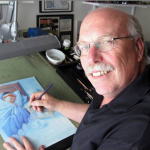 Executive Board Member
Glenn grew up, pencil in hand, in Philadelphia and spent his formative years drawing and making his own humor magazines and comic books.
Raised on the work of Jack Davis, Mort Drucker, John Buscema and Jack Kirby, Glenn's ambition was to create and illustrate comics. However financial concerns won out (as they always seem to do) and after graduating from The Art Institute of Philadelphia he accepted a position at Gimbels Department Store as a layout artist. He exhibited enough skill to the Art Directors there to have the opportunity to fill in on illustration assignments for merchandising men's fashions, television sets, refrigerators and lawn mowers to name a few.
Glenn became a partner in the ownership of a small promotional advertising agency called AdPeople and left Gimbels behind to work with his partners. The partnership proved to be successful but eventually dissolved amicably and in 1975 he became Art Director at Mitchell & Company advertising where he cut his teeth on national accounts such as Beech Nut baby food and The Army National Guard.
In 1977 Glenn left the agency and accepted a position with the Advertising Specialty Institute where he would spend the next 32 years. Over time Glenn would climb to the position of Corporate Art Director and manage the Design Department directing the design and production of a group of monthly trade magazines, catalogs and periodicals as well as the company's promotional graphics. He would receive recognition with awards in art direction and graphic design from The Art Directors Club of Philadelphia, Folio Magazine's "Face to Face" competition for Publication Design and the Apex Awards for Publication Excellence. (Glenn has also received awards for illustration from The Philadelphia Sketch Club, The Art Directors Club of Philadelphia and The Artists Guild of Delaware Valley.)
Glenn is now illustrating (and writing) children's books as well as working as an illustrator for clients such as Major League Baseball, Merck Pharmaceuticals, Great Lakes Publishing, Rich Brands, Inc., The Wall Street Journal and Thomson/West Publishing. His children's work has been published by Compass Publishing and Hachai Publishing. He has also taught at Cabrini College and The Pennsylvania College of Art and Design and currently serves as senior portfolio advisor for Moore College of Art's Illustration Department. He is member of the Society of Children's Book Writers and Illustrators and of course, the Bucks County Illustrators Society.
See more of Glenn's work: www.glennzimmer.com.