Artistacon is next weekend!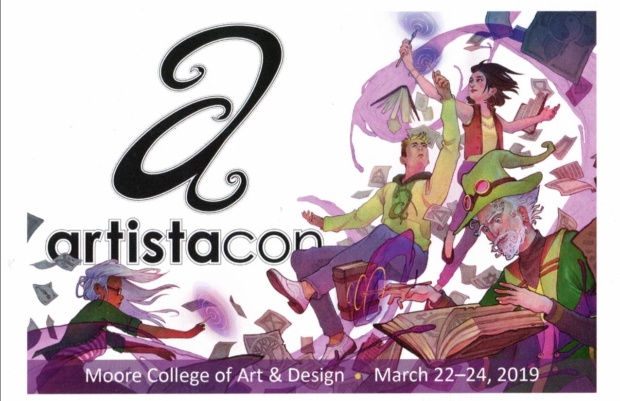 On Friday March 22, the popular Artistacon conference comes to Philadelphia! To kick off the weekend of fun, the Philadelphia Sketch Club will be hosting a special Meet and Greet, Drink And Draw from 7:30 PM to midnight Friday.
There is a fantastic lineup of Featured Artistans and Guests of Honor, as well as a smorgasbord of symposia, panels, and demos throughout the weekend. Looking to level up your creative career? Learn more HERE. 
Featured artist Guests of Honor include LAUREN PANEPINTO, CHRIS OATLEY, JAKE PARKER, NEILSON CARLIN, DAVE PALUMBO, JON SIDERIADIS, CARL POTTS, MARK MORALES, DANI HEDLUND, JON SCHINDEHETTE, JOHN WELLINGTON, DORIAN VALLEJO, SETH POLANSKY, JAMES BENNETT, MIKE MANLEY, KEVIN MURPHY, PIYA WANNACHAIWONG, PAT SHAND, CRYSTAL SULLY, CLARK HUGGINS, JASON POOLE, JEREMY WILSON,  MELISSA LOMAX  and CHRISTIAN 'PATCH' PATCHELL. Featured artisans include MICHELLE LOCKAMY, RYAN ONORATO, SKYE BOLLUYT, JAY TAYLOR, KIT KAZMIER , KAREN KAPPE NUGENT  and ENRICO BOTTA .
There will be an ArtistaSalon, Symposia, Panel Discussions, Live Demos, and Creative Mayhem. The schedule of events is listed HERE . Level up your artistic skills by purchasing an admission pass HERE.