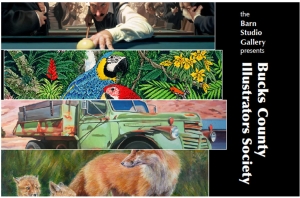 Members of the Bucks County Illustrators Society are thrilled to be exhibiting our artwork at the Barn Studio Gallery, on Gronendahl Farm in Doylestown for two weeks in October. This beautiful gallery is located in a classic Bucks County setting, amid rolling hills and picturesque grounds, at 4783 Landisville Road.  The opening reception will be on Friday, October 3 from 6 to 9 PM, and the exhibit will continue on October 4, 5, 11, and 12 from 1 PM to 6 PM or by appointment.
Gallery director Kim Gronendahl chose work from 14 of our members to be exhibited: James Bennett, Deb Hoeffner, Richard A. Harrington, Glenn Zimmer, Monika Hinterwaldner, Pat Achilles, Ponder Goembel, Pamela Hamilton, Rebecca Rhodin, Amanda Lee Condict, Kim Kurki, John Huber, Kathryn Maxwell and Linda N. LaRose.  (For examples of their work, please see our Gallery Page.) As you can surmise from the details in the postcard above, there is a great variety of top-drawer illustrations of all styles and subject matter in the show.  We invite all in the community to join us for the opening, on a lovely October evening at this graceful and bucolic site!
Pictured on the postcard above are works by (top to bottom) James Bennett, Kim Kurki, Richard A. Harrington and Deb Hoeffner.