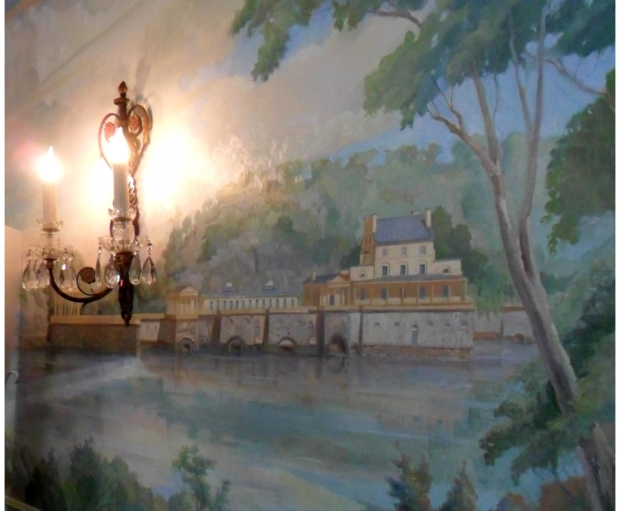 Join us for a talk and slideshow by oil painter Dot Bunn who, along with fine artist Patrick Connors, painted a room-size mural in Philadelphia's historic Strawberry Mansion.  The talk is on Wednesday Oct. 22 at 7:30 PM, and takes place in Paxson Hall at St. Paul's Episcopal Church, 84 E. Oakland Ave., Doylestown.
Dot is a full time studio oil painter who lives and works in Bucks County, Pennsylvania. She has a strong commitment to working with and teaching traditional methods of painting. Dot believes that spontaneity and intuition are only useful when paired with a strong background in drawing and value management. She is committed to merging the lessons of those who have gone before her as well as embracing the latest tools of technology.
Dot states that "Good paintings are the result of intelligent planning and the endless study of technique and process. My paintings are thoughtfully developed by design, with preliminary drawings using traditional methods of composition built on the geometry of rectangles much the same as was done by painters dating back to the Renaissance. I enjoy the challenge of building a composition that works two dimensionally while depicting reality."
Dot's work has been exhibited in solo and juried exhibitions, receiving many awards, including the Alden Bryan Memorial Medal for Traditional Landscape from Allied Artists of America Annual Juried Show; an Honorable Mention and Semi-finalist award from Art Renewal Center Salon Show; two Patron Awards for Painting from the Phillips' Mill Annual Juried Art Exhibition. Her work has been included in the Butler Institute of American Art National Midyear Exhibition, American Artists Professional League Grand National Exhibition and Art Association of Harrisburg Invitational Exhibition.
Her involvement in the art community includes teaching, lecturing and supporting other artists by hosting workshops and networking events. More of her work can be seen here.