Anatomy for Artists Workshop with Patrick Connors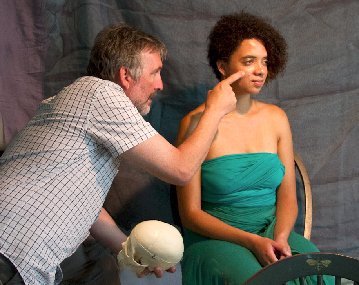 This workshop taught by renowned painter Patrick Connors in Bucks County, PA,  is for the serious student interested in advancing their drawing skills.
Saturday February 28, March 7, 14 and 21
This workshop is an in-depth study of the proportion, form, and physical structure of the human body. With this anatomical knowledge the artist will have the means to work from the model or from imagination to create beautiful, accurate, and original figure drawings.
Lecture and Demo to start each class
Each class will be comprised of two 3–hours sessions. The morning session will include lecture, demonstration and drawing exercises. In the afternoon session, participants will be working from the live model incorporating the morning's lessons. There will be out–of–studio work that will consist primarily of copying Master drawings.
The full day workshop is limited to six artists to allow for a high degree of individual attention. The cost is $450.00 for the four full days or $125.00 per individual day includes model fee, drawing tools (charcoal or graphite pencils; pens; red, blue, and black pencils) and a lite lunch. You only need to supply a sketchpad and floor easel.
We will offer just the three hour morning session for $65.00 per day.
Those signing up for all four full days will be given first preference. The first class will start with Canons of Proportion.
Materials Needed:
Morning session: 9" x 12" or 12" x 15" sketchpad.
Afternoon session: 18" x 24" sketchpad.
Saturday February 28, March 7, 14 and 21.
Hours: 9:30 to 4:30 with an hour lunch break. We will have coffee, tea, water and a light lunch, but you are welcome to bring your own lunch, snacks or drinks and store them in our refrigerator.
If you would like to sign up or have questions. Please respond by email to dotbunn@aol.com – or call 215-630-1698. Please include if you want all day or only mornings. We will then send deposit information.
Patrick Connors is an award-winning painter and a graduate of the Pennsylvania Academy of Fine Arts. His drawings and paintings are exhibited across the country, as well as internationally in both private and public collections. Patrick has taught at the Graduate School of the New York Academy of Art, Pennsylvania Academy of the Fine Arts, Studio Incamminati, and the Institute of Classical Architecture & Art: Manhattan and Rome Programs.Awards include an Oxford University Summer Residency Fellowship in painting and anatomy, a Pollock Krasner Foundation Grant for painting, the Samuel D. Gross/Thomas Eakins Award for Significant Contributions to Medicine and its Surrounding Culture. Among the institutions he has been invited to lecture are Yale University Art Gallery, Philadelphia Museum of Art and Drexel School of Medicine. He has taught at the New York Academy of Art, the Pennsylvania Academy of the Fine Arts, and the Institute of Classical Architecture & Art: Manhattan and Rome Programs.