BCIS Members Win Awards at Phillustration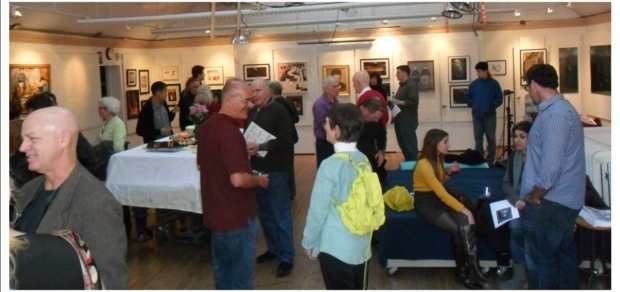 The Philadelphia Sketch Club has once again brought together the exceptional talents of Philadelphia-area illustrators into one great show for Phillustration 6.  We're very proud that many pieces by members of the Bucks County Illustrators Society were chosen for exhibit among so many other excellent illustrations. If you are in the city it's a terrific show to visit at the historic Sketch Club, 235 S. Camac Street.
Among the BCiS award winners at Phillustration were James Bennett, who took home the Best of Show Award for his oil painting of Rogers Waters, and an Honorable Mention in Self-Promotional for 'Ray Charles'; Pat Achilles, First Place in Advertising for her theater poster for 'The Secret Garden': Cassandre Maxwell, First Place in Editorial for 'Cascarones:' Deb Hoeffner, Honorable Mention in Editorial for 'Laughing Bear,' Ponder Goembel, Honorable Mention in Book Illustration for 'I, Icarus'; and Dave Song, Honorable Mention in Self-Promotional for 'Kiki's Delivery Service.'
The juror for this show was illustrator David Brinley, well-known for his editorial illustration work in the Washington Post, GQ and the New York Times Magazine.  Mr. Brinley also chose fine illustrations by BCiS members Glenn Zimmer, Monika Hinterwaldner, Lee Harper, Pam Hamilton, Rebecca Rhodin and Joe Kulka to be exhibited in Phillustration 6.  Congratulations to everyone!
The show features art by many respected area illustrators including Charles Santore, Bob Byrd, and  John O'Brien and it runs through November 8. The Chairman of the Phillustration show is illustrator Rich Harrington, who has done another excellent job in coordinating a beautiful show.
Of course I recommend checking out the exhibit in person, to see the all the brush strokes, textures and layers of these delightful images, but if you can't get to the Sketch Club, there is also an online gallery of the works at the Philadelphia Sketch Club website.
–Pat Achilles