Call for Entries, Phila. Sketch Club's 'Art of the Flower'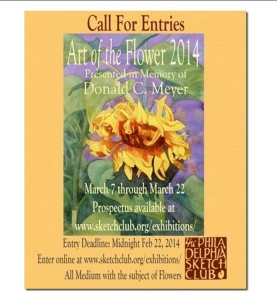 The Philadelphia Sketch Club has announced its call for entries to their annual Art of the Flower Show.  America's oldest horticultural show, the Philadelphia Flower Show, coincides for a few days with this exhibit – the Flower Show runs March 1 to 9 and the Sketch Club's Art of the Flower will run March 7 to 22.
Everyone accepted to the Sketch Club show will also be shown on PSC's online sales gallery.  The prospectus and entry portal can be accessed on  
http://sketchclub.org/exhibitions/
 .  Deadline for entries is February 22 at midnight, and you do not have to be a member of the Philadelphia Sketch Club to enter.